Tom & Chris Carleton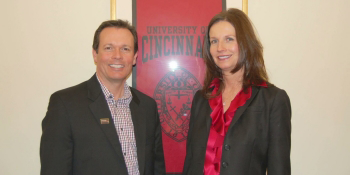 Loyal Alumni Couple Creates Their Legacy at UC
More than 20 years after they met in Professor Lisa Newman's Mass Communication College of Arts & Sciences grads Tom Carleton, '91, and his wife Chris, '90, can't imagine a life without each other - much less the University of Cincinnati. So when it came time to map out the charitable impact of their estate, "UC was an easy choice."

"The university has always been a big part of our lives," said Chris, admitting their social calendars oftentimes coincide with UC's. The couple traveled to the 2011 Liberty Bowl with 30 of their closest Bearcat friends and has found countless ways to mentor current students.

"We chose to support UC because of the tremendous amount of support and opportunity UC has provided to us throughout our lives," added Tom. "We wanted to continue making an impact at UC even after our lifetime, but hadn't considered how to do that until we started to do our estate plan."

The Carleton's estate advisor explained that a bequest would allow them to direct their estate to UC - and to as many areas as they found personally meaningful. The couple discovered that the possibilities for their gift's impact were endless. "If you ask the questions, you'll find something at UC that piques your interest and fits your passion," Tom said. "It's nearly impossible not to."

The Carleton's interests landed on multiple UC initiatives. They directed their bequest to support a scholarship for first-generation Arts & Sciences students, animal research through the College of Allied Health Sciences' FETCH Lab, and a fund that provides seed money for key UC Athletics projects.

"We wondered what we could afford to support today. We were only looking at the present." Tom said. "But in exploring our options, we found that the support we could provide was much larger than we thought possible."
Questions? / Contact our Gift Planning Team:
Have Questions? Click here to schedule a meeting today!

Danny Ferrell » Executive Director, Gift Planning
513-556-6001

Tammy Wernke » Senior Director, Gift Planning
513-556-6293

Jennifer Morand » Assistant Director, Gift Planning
513-556-6064