Arlene Brill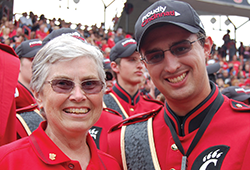 Beginning with her arrival on campus as a UC student in the early 1960s and continuing throughout her life as a College of Education alumna, Arlene Brill loves being part of the UC Bearcat Bands family. That passion has recently taken shape through a gift annuity, which allows Arlene to support future band students through a scholarship and still protect her own financial well-being.
Life income gifts allow donors to make a significant charitable gift with the comfort of knowing they will receive an income from the annuity or trust they establish to do so. Watch this video to see why this was the "perfect" solution for Arlene, who was seeking a way to give back to the program that truly shaped her experience at UC.
You can also check out this brochure for tips on why a life income gift may be your "perfect" solution too.