Alan and Marla Robbins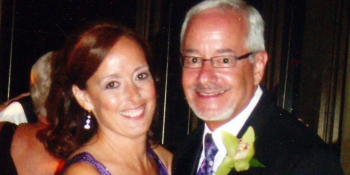 When it came time to begin their college careers, the lure of someplace relatively close - yet still far enough away - attracted Alan (BUS '76) and Marla (EDU '76) Robbins from different parts of Ohio to the University of Cincinnati (UC), where they met and soon fell in love.
"I remember meeting Marla through her sorority, because I was involved in student government and we had worked together on something," says Alan, grinning. "I figured that was enough of an excuse to call her and ask her for a date, and as they say, the rest is history."
Though their careers eventually took them away from Clifton, they still maintain an active relationship with the university through the UC Alumni Association, where they organize regional events, connect with other alums, and even speak to prospective college students about the benefits of becoming a Bearcat.
"It's fun talking to students and their parents about UC and we love meeting other alumni, but aside from attending events, I have to say that Alan's major passion is following Bearcat sports, says Marla. "When the alarm goes off in the morning, it's usually the first thing he checks online."
The Robbins' enthusiasm for supporting their alma mater reached a new height when Alan and Marla discovered they could make a significant gift to support their favorite areas of UC - their home colleges, Business and Education, as well as the Alumni Association - at a level that fits within their budget.
To get started, Alan and Marla purchased a Life Insurance Policy, which was then transferred to the UC Foundation. The couple then made the UC Foundation the primary beneficiary of the plan, and worked with Gift Planning staff to ensure their donation was earmarked for the priorities they cared about most.
"Now, Marla and I just make annual payments on the contract of the insurance policy, and it builds value that the university will be able to tap into one day for a substantial gift," Alan says. "We're proud of what we've accomplished in our lives and our careers, so making this contribution is a way to show our gratitude while maximizing what we have to give."
Questions? / Contact our Gift Planning Team:
Have Questions? Click here to schedule a meeting today!

Danny Ferrell » Executive Director, Gift Planning
513-556-6001

Tammy Wernke » Senior Director, Gift Planning
513-556-6293

Jennifer Morand » Assistant Director, Gift Planning
513-556-6064