Then and Now: Alumna Keeps Cheering for the 'Cats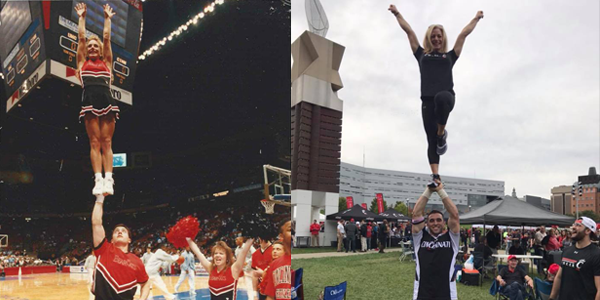 Tracy Eutsler, CECH '96, was always going to be a Bearcat. The Cincinnati native says she never thought about going anywhere else. Now, the UC alumna is thinking ahead so others can be Bearcats, too. Through a gift plan, Eutsler will create scholarships for UC students even after she is gone.
"I loved the experience I had at UC," Eutsler says. "I try to give back when I can, and I knew I wanted to make a lasting impact so others could pursue their dreams. The planned gift was a way to do that."
At UC, Eutsler studied health promotion and education, focusing on the exercise sciences — anatomy, physiology and kinesiology. She became interested in the field from her experience as a UC cheerleader and their required workouts implemented by the athletic teams' strength and conditioning coach.
"I wanted to help people be stronger and healthier and working with athletes also appealed to me," Eutsler says.
Eutsler was on the cheerleading squad for two years, and the experience deepened her connection with the university, her teammates, other athletes, coaches and fellow students.
"I loved being a part of varsity athletics in a role where I could help create a high-energy atmosphere for our football and basketball teams," she says.
She has carried that same energy and passion into her professional career. After graduation, Eutsler pursued an internship with Johnson & Johnson Health Care Services at Eastman Chemical Company in Kingsport, Tennessee. There, she worked with the company's employee wellness program, tackling everything from work site safety, group exercise instruction and ergonomics training.
From Tennessee, Eutsler moved to South Carolina and then Maryland — all in the pursuit of her passion of working in wellness. She currently serves as Executive Director of the Perkins Family YMCA in St. Michaels, Maryland.
Through all of her moves, Eutsler remained connected to her alma mater and hometown, returning to Cincinnati a few times a year to visit family and cheer on the Bearcats. Two years ago, she fondly recalls returning for Homecoming and walking in the parade with fellow Cheerleading alumni.
"Being a part of the Bearcats cheerleading team was one of the most influential experiences of my life," Eutsler says. "Being able to come back to campus and reconnect with former teammates and coaches while 'representing the C' again was something I will never forget."
Her continued connection with UC is part of why she decided to make a planned gift.
"I wanted to pay it forward and this allows me to make a more meaningful impact later. It was important to me to make that commitment. I hope it helps others who are dreaming of attending UC," Eutsler says.
The gift through her estate will provide scholarships for UC students with preference for student athletes and cheerleaders — a fitting tribute to Eutsler's own UC legacy.
"The university had such an important impact on my life. I want future Bearcats to have that same experience, of living on campus, participating in extracurriculars and being a part of a team. This is a way for me to share that impact with someone else."
To learn more about how you can leave your legacy at UC through planned giving, please visit uc.giftlegacy.com.
Questions? / Contact our Gift Planning Team:
Have Questions? Click here to schedule a meeting today!

Danny Ferrell » Executive Director, Gift Planning
513-556-6001

Tammy Wernke » Senior Director, Gift Planning
513-556-6293

Jennifer Morand » Assistant Director, Gift Planning
513-556-6064