CEAS Alumnus Makes Bequest -- Then Increases It!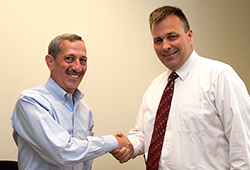 Ralph Spitzen, an alumnus of the University of Cincinnati College of Engineering and Applied Science (CEAS), recently made a $150,000 bequest to provide Aerospace Engineering students in the ACCEND (Accelerated Engineering Degree) MBA program with much-needed scholarships. The UC CEAS ACCEND program allows students to earn their bachelor's and master's degrees in an accelerated time frame while still enjoying the benefits of UC's top five nationally ranked cooperative education program.
Qualified students may elect to enroll in ACCEND after their first year in an engineering or technology degree program, earning their bachelor's and master's degrees while still graduating with their class. It's a program that encompasses the very same education Spitzen received - the aerospace engineering bachelor degree and his MBA - only in a shorter time frame and the degrees are achieved concurrently.
Spitzen says his decision to give this gift was because of his "growing sense of responsibility to be philanthropic and further the programs that helped him in his career."
Spitzen felt compelled to give back to UC because he says his education helped get him to where he is today. Spitzen even increased his original generous bequest. "The university and CEAS continue to not just adapt but also work hard at getting ahead of the curve in the competitive landscape of higher education," he says. "The university and CEAS have earned what I call 'the right to grow' as a result of their accomplishments over the last few years. This is what prompted me to increase my bequest."
Due to Spitzen's passion for aerospace engineering and his generous donation, many future UC students will now be able to achieve their goals.
"It is due to the support of generous donors like Ralph that we are able to continue educating the leaders of tomorrow," said Rod Grabowski, UC Foundation President. "With his gift, he is helping make the dreams of future CEAS students a reality."
Native to New Jersey, Spitzen decided to attend UC for many reasons but specifically because, "co-operative education is one of UC's perennial value propositions, is a core part of UC's culture, and is how CEAS is 'wired'. It's not just a program that students can elect or not elect."
"Choosing UC allowed me to combine these value props with the resources of one of the largest universities in the country." Spitzen enjoyed his time attending UC and still stays in contact with his professors.
Ralph Spitzen graduated from UC's CEAS with a degree in aerospace engineering in 1974. He completed his UC education in 1976 receiving his Masters of Business Administration. Currently, Spitzen is Director of Supply Chain Management at Worthington Steel in Columbus, Ohio.