UC Alumna and Pioneer in Diagnostic Ultrasound Gives Back to Where It All Started with $1.25M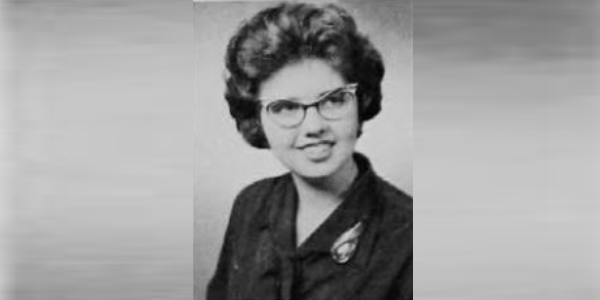 To become a world authority in diagnostic ultrasound – someone who literally wrote a book on it – you must be intelligent. Barbara Bowling Gosink, MD, is certainly that, but the University of Cincinnati alumna is so much more. And thanks to her generosity and foresight, future generations of Bearcats will get to write their own UC origin stories.
Barbara was born May 21, 1941 to George and Anna Mae Bowling in Cincinnati. Early on, her intellect and drive were on full display. As a student at St. Agnes Elementary, she represented the Cincinnati region at the National Spelling Bee finals in Washington, D.C., finishing ninth in the nation after stumbling on the word "chiastolite." Though it should be said that she knew all of the other words.
While Barbara's parents never attended university, both she and her brother – 9 ½ years her senior and also a UC grad – both wanted college degrees. Barbara enrolled at UC and quickly excelled at campus life, earning membership to several honorary societies including Alpha Lambda Delta of which she served as president; Pi Delta Epsilon, for her perhaps unsurprising role as copy editor with several campus publications; and Mortar Board, a national women's honorary society that was founded at UC in 1912.
Notably, Barbara also was elected class vice president, a position that happened in spite of her campaign posters mysteriously going missing. Barbara was too likeable for that to have mattered much.
It took Barbara only three years to complete her degree in zoology, graduating Phi Beta Kappa no less – the highest honorary distinction. She then enrolled at UC's College of Medicine, but her time with the college was to be short-lived.
In June 1962, Barbara met her future husband, Leonard Gosink, MD, while he was home on break from his medical studies at Northwestern University.
Leonard was looking for summer work at Longview State Hospital, the state's mental hospital that at one time had over 3,000 patients. Barbara was working in the personnel office when Leonard arrived asking about open positions. She lamented having to tell him that, "Sorry, no, there weren't any available." When Barbara left early for the day, she noticed Leonard walking and stopped her '51 Ford to ask him if he needed a ride.
"We met on a day I was hitchhiking on the grounds of a mental hospital," Leonard laughs.
Barbara ultimately transferred from UC to finish out her medical studies at Northwestern with Leonard, who himself would become a sought after neurologist. Barbara went on to have a storied medical career, landing at another UC in University of California San Diego, where she finished her residency in radiology and was appointed to the faculty straight away for her prowess in ultrasound.
She published several journal articles and even one book on ultrasound, lecturing across the country on topics ranging from the endometrium to DNA for genealogists. As one attendee to a Computer Genealogy Society of San Diego event noted, "Barbara is an engaging and funny lady, with a wealth of knowledge." In 2005, Barbara received the Joseph H. Holmes Pioneer Award in the category of clinical science for her contributions to the growth and development of diagnostic ultrasound.
While Barbara no longer lives in Cincinnati, she and Leonard are in San Diego now, both retired, she still recalls fondly her time in the Queen City and at UC. She wants to help future generations of UC students; especially those who, like her and Leonard, may have limited means to pay for school.
Through a planned gift option in her will, Barbara has generously allocated $1.25 million to the UC College of Arts and Sciences and UC College of Medicine – countless students are sure to benefit.
"I know that without my UC degree, my earnings would not have been nearly what they turned out to be, and I hope the gift enables students of marginal financial means to attend UC," Barbara says.
To learn more about how you can leave your legacy at UC through planned giving, please visit uc.giftlegacy.com.
Questions? / Contact our Gift Planning Team:
Have Questions? Click here to schedule a meeting today!

Danny Ferrell » Executive Director, Gift Planning
513-556-6001

Tammy Wernke » Senior Director, Gift Planning
513-556-6293

Jennifer Morand » Assistant Director, Gift Planning
513-556-6064