Cady Short-Thompson Creates Gift Plan to Benefit Scholarships for UC Students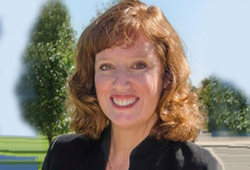 At UC Blue Ash, It's Practice What You Preach
A stack of cards rests on the corner of Cady Short-Thompson's desk in Muntz Hall. Inside, students have written words of gratitude, thanking the dean for the scholarships they received to attend University of Cincinnati Blue Ash College.
"I keep the thank-you notes there as a reminder of what we work for every day," says Short-Thompson, dean of UC Blue Ash College. "It's all about the students."
Since becoming dean in 2010, Short-Thompson has worked tirelessly to increase the number of scholarships available to UC students. She says the main reason students drop out or "stop out" at UC Blue Ash is related to finances. Often, it has nothing to do with a student's academic abilities. In fact, the average GPA of a student who drops out is 2.98.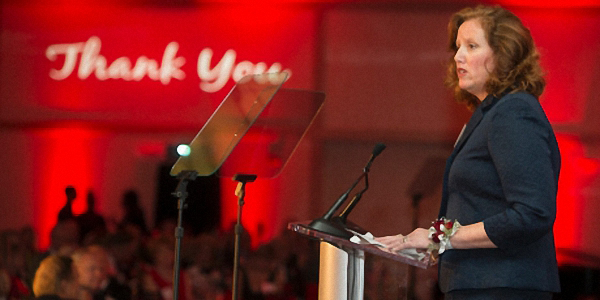 UC Blue Ash Dean Cady Short-Thompson speaks during the 2015 George Rieveschl Recognition Dinner. Short-Thompson received the UC Foundation's Staff Award of Merit for her philanthropic commitment to the University of Cincinnati.
"I take it very personally," Short-Thompson says. "Not being able to graduate because of only a couple hundred dollars is unacceptable. At UC Blue Ash, we have found that a little bit of money can go a long way for a lot of people."
Short-Thompson is the definition of personally invested. In 2013, the UC alumna established a scholarship fund to honor her late mother. The Reverend Kay S. Short Scholarship Fund is named for her mother — a former minister who managed three children, a husband and a career all while pursuing her own higher education.
To ensure the fund is fully endowed, meaning it will support student scholarships as long as UC is standing, Short-Thompson made a special gift earlier this year. Through a gift plan — an insurance policy — Short-Thompson guaranteed the fund will benefit students in perpetuity.
"It's a joy to think that after we're gone, we're still able to make an impact in an area that's important to us," Short-Thompson says. "Money should not be a reason why people aren't successful."
Short-Thompson says the decision to make a gift plan is about recognizing you won't be around forever, but making sure what you care about is covered.
"Unless you've figured out something I haven't, we're all going to die. Gift plans offer the opportunity to leave your mark on what you care about," Short-Thompson says.
Those interested in learning more about gift plans should contact the Office of Gift Planning at gift.planning@uc.edu or 513-556-6293.