Arlene Brill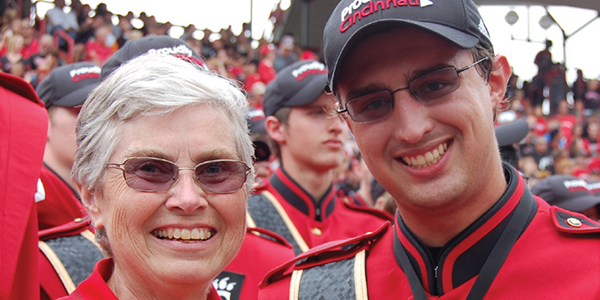 Passionate Band Alum Discovers 'Perfect' Way to Give and Receive
Beginning with her arrival on campus as a University of Cincinnati (UC) student in the early 1960s and continuing throughout her life as a College of Education alumna, Arlene Brill loves being part of the UC Bearcat Bands family. That passion has now taken shape through a gift annuity, which allows Arlene to support future band members and still protect her own financial well-being.
"In the back of my mind, I always wanted to do something specifically for the band at UC," Arlene said. "I believe in its 'Tradition, Pride and Passion' and want to help current and future band members have the same positive experiences I had through the program."
Representatives from the UC Foundation acquainted her with the gift annuity as one option for making that possible. "You don't have to be a millionaire to participate in the annuity program," she said. "You can give at the level you're comfortable with. In my case, the gift supports a band scholarship fund. That really makes a difference for me and makes it more personal. I also receive some quarterly income from the annuity. It all just clicked for me-it was the perfect solution."
Arlene continues to be a band member, and not just in spirit. After setting her instrument aside at the start of her post-graduation teaching career, years later she found herself in the Nippert Stadium stands when the UC Alumni Band took the field during halftime at a Homecoming game.
"I remember thinking, 'Why am I up here? I should be down there." Saxophone in hand, she's been a devoted Alumni Band member ever since.
"I've always believed in pay it forward, but sometimes you need to pay it back," Arlene said. "I had such a great experience at UC, and I am the person I am today because of the UC Bearcat Bands. It makes me proud to support a group of this caliber."
Questions? / Contact our Gift Planning Team:
Have Questions? Click here to schedule a meeting today!

Danny Ferrell » Executive Director, Gift Planning
513-556-6001

Tammy Wernke » Senior Director, Gift Planning
513-556-6293

Jennifer Morand » Assistant Director, Gift Planning
513-556-6064