Tom & Chris Carleton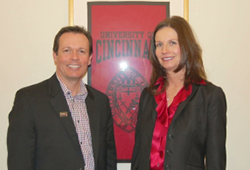 Loyal Alumni Couple Leaves a Lasting Legacy
More than 20 years after they met in Professor Lisa Newman's Mass Communication class, McMicken College of Arts & Sciences grads Tom Carleton, '91, and his wife Chris, '90, can't imagine a life without each other - much less the University of Cincinnati. So when it came time to map out the charitable impact of their estate and the beneficiary of a bequest, "UC was an easy choice."
"The university has always been a big part of our lives," said Chris, admitting that their social calendars often coincide with UC's. The couple traveled to the 2012 Liberty Bowl with 30 of their closest Bearcat friends and has found countless ways to mentor current students.
"Over the years, UC has provided us with so much support and opportunity in both our personal and professional lives," Tom added. "We wanted our personal impact at UC to go beyond what we've been able to provide during our lifetime, but hadn't considered how to do that until we started to do our estate plan."
Back to Class
The seed was planted when Tom and Chris journeyed back to where they first met. Having provided internships for some of Professor Newman's students in recent years, the Carletons were top-of-mind for their former teacher. Given their divergent paths as UC communications grads (Tom does non-profit campaign work while Chris is a financial advisor), Professor Newman invited them to speak to her Careers in Communications class.
Attending the class that day was Rob Cardosi, a representative of the college and the UC Foundation, who chatted with Tom and Chris afterward about their relationship with UC and their interest in greater support. From that conversation, the Carletons decided to set up a scholarship for Communications students, honoring Professor Newman. "Now all the other students who had a great connection with Lisa can combine their gifts for greater impact," said Chris.
Learn more about how you might leave your legacy.
Furthermore, the Carletons' estate advisor explained that a bequest would allow them to direct their estate to UC - and to whatever areas they found personally meaningful. The couple discovered that the possibilities for their gift's impact were endless. "If you ask the questions, you'll find something at UC that piques your interest and fits your passion," Tom said. "It's nearly impossible not to." Gift Satisfied 'Head' and 'Heart'
The Carletons' interests did indeed identify additional UC initiatives. Beyond their Communications scholarship, they directed their bequest to support a scholarship for first-generation Arts & Sciences students, animal research through the College of Allied Health Sciences' FETCH Lab, and a fund that provides seed money for key UC Athletics projects.
Wanting to support UC was a "heart" decision, while putting their gift in the form of a bequest was more of a "head" decision. "We had wondered what we could afford to support today. We were only looking at the present." Tom said. "But in exploring our options, we found that the support we could provide was much larger than we thought possible."
Chris agrees. "It's great to be able to specify the areas we want to support, and then to see how those areas grow over the years," she said. "With Tom being in the non-profit world, it makes us more keenly aware than most of being good stewards with your charitable dollars. It's important to see the beneficiaries of those dollars, and still have that personal connection."