Bill & Edlyn Simmons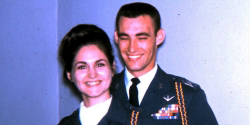 Bill and Edlyn Simmons have lived the ideal UC story. They met as undergraduates. Their degrees in engineering and chemistry, respectively, led to rewarding and successful careers. Now, they've discovered a way to give back to their alma mater through a Charitable Remainder Trust, which they learned could benefit both them and future Bearcats.

The couple's financial investment savvy recognized a smart option when it came along. "Among various UC brochures and magazines we received over the years, I held onto some information about charitable trusts because it looked like something that would make a great deal of sense later on," Bill said.

Sure enough, when some of their investments came to fruition, Bill and Edlyn revisited the materials they'd tucked away years before. After learning about the Charitable Remainder Trust opportunity, they recognized the opportunity as simply "the right thing to do at the right time."

"The university invests the money we provided initially, and the returns are sent to us," Edlyn explained. "And we use that money as we wish - to support ourselves during the year, or to make more gifts to the university. When we're gone, the remainder will belong to UC."

Like so many donors, the couple appreciates the opportunity to match their personal passions in life with specific causes. Bill's ROTC experience at UC propelled him to a career in the Air Force and later in the aviation private sector. Research chemistry, including serving as a patent agent and performing patent searches, has been Edlyn's lifelong work. So it was natural to direct their support to fund Air Force ROTC scholarships and the College of Arts & Sciences' Chemistry Department.

Beyond the financial sensibility, the Simmons couple appreciates the intrinsic rewards of their decision to give. "It was a struggle to get ourselves through college," Bill said. "If we can help somebody now who is really worthy of it and needs that financial assistance, it's a win-win for the students and us. Plus, it just feels good."
Questions? / Contact our Gift Planning Team:
Have Questions? Click here to schedule a meeting today!

Danny Ferrell » Executive Director, Gift Planning
513-556-6001

Tammy Wernke » Senior Director, Gift Planning
513-556-6293

Jennifer Morand » Assistant Director, Gift Planning
513-556-6064