'Doc' ensures student-athletes are cared for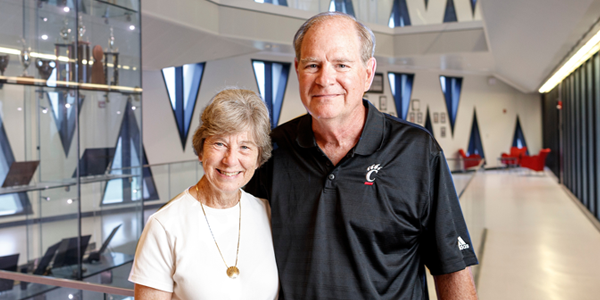 Ken Stephens, BS (Pharm), '70 says the University of Cincinnati provided him with amazing opportunities.
It also gave him a lasting nickname.
During his 39 years as UC's team physician for athletics, faculty and director of institutional services, Ken heard a common refrain during his daily walks across campus.
"What's up, Doc?"
"That phrase stuck from day one," Ken says. "Students come and go, comics come and go. 'What's up, Doc?' stood the test of time."
What has also stood the test of time is the appreciation Ken and his wife, Shirley, BA '71, have for their shared alma mater. They met through Ken's pharmacy fraternity in the late 1960s. Both were the first in their families to attend college, and both share that UC set them on the path to successful lives and careers.
When Ken was hired by UC after completing medical training, he and Shirley were thrilled to return to campus. Both relished getting to know students through Ken's teaching assignments and duties as team doctor.
When they recently began thinking about their own personal legacy, it was clear to both what they wanted to do-help UC students have the same opportunities for education that they had. Ken had a scholarship while at UC and wished to support the hard-working student-athletes he had spent his career treating.
"I don't think the average person understands how difficult it is to be a student-athlete," Ken says. "They put in a lot of hours and have to do what all the other students do in class. I could not have done it and it's not just because I have two left feet."
Ken and Shirley made planned gifts to establish scholarships for student-athletes pursuing medical professions, including those close to their own hearts-pharmacy and social work.
"I received so much support from University Health Services and the athletic trainers that I want to support those going into those fields," Ken says.
The Stephens also give to existing scholarship funds, including one at UC's College-Conservatory of Music.
The man known as "Doc" reminisces about his early morning walks and the sounds of CCM students practicing at Memorial Hall. He also treated CCM students who, he says, put in just as much practice as the student-athletes.
Ken says he's proud of the range of opportunities the university offers students. He wants to be a part of providing for others what he received-a great education, a satisfying career.
"UC provided a super experience for me," Ken says. "Why wouldn't I give back?"
Who will you empower NEXT?
Scholarships, fellowships and enrichment programs provide opportunities for students to attend, grow and graduate from UC. You can empower our next leaders through support for scholarships, fellowships and signature programs in career-based education, co-op or professional development.
Questions? / Contact our Gift Planning Team:
Have Questions? Click here to schedule a meeting today!

Danny Ferrell » Executive Director, Gift Planning
513-556-6001

Tammy Wernke » Senior Director, Gift Planning
513-556-6293

Jennifer Morand » Assistant Director, Gift Planning
513-556-6064