Patrick Portway, BA, '63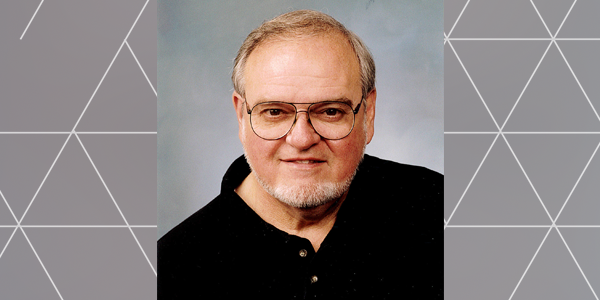 A now retired executive of the telecommunications industry, Patrick Portway, BA, '63 can trace the lasting impact of his University of Cincinnati experience throughout his life, especially at a time when he needed it most.
The son of a widowed mother, Portway assumed the financial burden of his UC education from the moment he stepped onto campus in 1958. Portway worked for a dry cleaner delivery driver at the time, earning just enough money to cover the cost of school which at first, he completed in the evenings. After his first year, Portway switched to full-time student status, recognizing it would cost more but ultimately allow him to earn his degree much sooner.
Starting as a physics major, Portway completed rigorous classes in math, science, and technology. He did so while balancing a part-time job at the reservations desk of local dance hall and music venue, Castle Farm, and as member of the UC Army Reserve Officer Training Corps. "It was a lot to balance at the time, but everything I was involved in mattered to me. I found it important to find ways to support myself while maintaining a commitment to serving something bigger," Portway says.
Midway through his college career, Portway began to reconsider if physics was the best fit. At the time, he had taken one course in political science; he knew he liked the subject matter and decided to take a chance on his instincts, opting to switch majors entirely. He concentrated specifically in Russian studies, taking classes in Russian language, government, and history.
By graduation, Portway landed a job with the General Services Administration (GSA) in Washington D.C. Securing an apartment over the phone, he made plans with his wife to move to Maryland.
Once they arrived, the new graduate was asked for both the security deposit and first month's rent. He could barely afford to stay at a nearby motel and was informed by GSA that he wouldn't be paid until the end of the month. He had also just learned of his call up to active military service as well.
"I was in desperate need of help," Portway says, "and with only a few places to turn for support, I made a call to the University of Cincinnati ROTC Office and asked to speak to the commanding officer."
Portway says that phone call and its outcome changed his life forever. "The commanding officer asked me how much I needed to cover the deposit and rent payment, so I told him, and he responded, 'we'll send a check,'" he says. "Because of that act of generosity, my life was never the same, and I haven't forgotten it."
After first making his way through basic infantry training, Portway began his work in Army Intelligence where he served in the 116th Counterintelligence Corps Group in Washington, D.C. Notably, he was a member of the security detail for President Lyndon Johnson's inauguration.
The military recognized Portway's unique background of political science, math, science, and technology from his time at UC. He went on to run a computer center for the Army and trained himself in Cobalt (CAD program) and other machine languages.
Portway left his work in government to join the private sector. His career spanned time at many leading companies, including Xerox, Boeing, and Satellite Business Systems (SBS), a company founded in partnership by IBM, Aetna, and COMSAT. Working for American Satellite, he sold and oversaw the implementation of satellite networks to leading companies including Crocker National Bank, Wells Fargo and Bank of America.
At Bank of America, Portway presented a seminar to company executives on the opportunities of satellite networks. He explained how this new technology could be utilized to facilitate two-way video conferencing. Executives delighted in Portway's ideas and inspired him to go beyond one-time seminar trainings. Recognizing the disruptive power of this new application of computers and telecommunications, Portway started his own company and began to travel America, spreading the word about videoconferencing.
Emerging as an expert in the new field, Portway went on to establish TeleCon, a trade show focusing on the latest innovations in videoconferencing and collaborative computing technologies, and their applications in distance learning, telecommuting and telehealth. TeleCon welcomed over 20,000 annual attendees at the Anaheim Convention Center.
His once "futuristic" line of work has become the new normal around the world, especially in recent months given the COVID-19 pandemic. "I always knew this was a critical tool for our world's technological advancement. Recent events have more than proven that is the case," Portway says.
"I've seen and done a lot of things in this life," Portway says, "and through it all, I never stopped learning. Most importantly, I never forgot that my path was put in motion by someone else's act of generosity."
Since his retirement in 2000, Portway has given generously to UC, funding two charitable remainder unitrusts (or CRUTs). Through the CRUTs, Portway will create the Patrick Portway Scholarship Endowment Fund to help students in the College of Arts & Sciences finance their educations.
"We go through our lives and things happen to us that just stick; we don't forget them. For me, that was the financial help someone provided when I was in a really difficult situation," Portway says. "I believe that if you are going to establish some sort of legacy, it is very difficult to do it on your own, but by tying part of my legacy to UC I know that it will become a part of something bigger and that endures."
---
A charitable remainder unitrust (CRUT) is an irrevocable trust that generates a potential income stream for you, as the donor to the CRUT, or other beneficiaries, with the remainder of the donated assets going to a UC program that is most meaningful to you. A CRUT can be a combination of tax planning and philanthropy.
A charitable remainder trust is a great way for you to achieve benefits for yourself and to leave a legacy at the University of Cincinnati or UC Health. To learn more or to view a custom illustration of benefits for you, please visit uc.giftlegacy.com or call us at 513-556-6293.
Questions? / Contact our Gift Planning Team:
Have Questions? Click here to schedule a meeting today!

Danny Ferrell » Executive Director, Gift Planning
513-556-6001

Tammy Wernke » Senior Director, Gift Planning
513-556-6293

Jennifer Morand » Assistant Director, Gift Planning
513-556-6064