Former UC Mathematics Professor Makes Giving Back Part of the Equation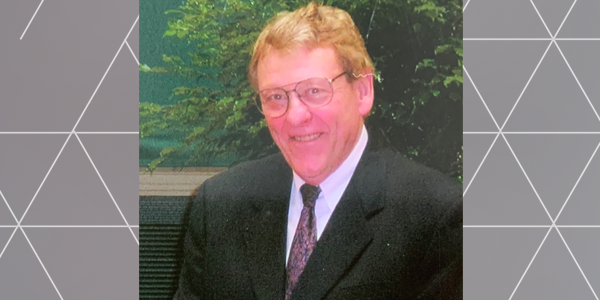 From family farmer to accomplished scholar to prominent professor to reputed researcher, Joe W. Fisher's path to professorship at the University of Cincinnati just made mathematical sense. Now, he is giving back to his former employer through an estate gift that promises to pay dividends for future UC students.
Born in York, Nebraska to a farming family of four, Joe learned the value of hard work early. He fondly recalls long hours on the farm and walking to a nearby one-room schoolhouse. In high school, he was dubbed affectionately the "joker of the junior class," a testament to his amiable and social nature. He graduated valedictorian and — encouraged by his teachers — left the farm life he loved for college.
His academic success in high school had earned him a Regent's scholarship, allowing him to attend any state college or university in Nebraska. He chose Kearney State College, where he majored in mathematics and discovered and developed a love for teaching, before graduating top of his class. His desire to teach took him to the University of Illinois where, true to form, he finished his thesis a year early.
His career next took him to the University of Texas at Austin for an assistant professorship of mathematics, where he uncovered a knack for research. His tenure at UT was productive, but his sights were set on a more ideal environment to pursue research in ring theory — the University of Cincinnati.
"It was a perfect fit for me," recalls Joe, who began at UC as an associate professor leading the bourgeoning algebra research group. "It was a warm, welcoming, and close-knit faculty that worked hard and loved to socialize. UC appreciated me and rewarded my efforts by promoting me to full professor in minimal time."
At UC, Joe built an international research reputation, earning invitations to lectures at conferences worldwide. He became the department's first undergraduate program director and spent 15 years helping students to navigate the hurdles of a math degree and find fulfilling careers using their math skills.
"Looking back, I can't think of any career that would have been more perfect for me," Joe says. "I loved challenging and stimulating young people in the classroom and out. Meeting and working with my research colleagues at universities all over the world was pleasurable and rewarding."
Today, Joe is a happily retired father and grandfather living in Wyoming, Ohio. He has remained connected to the university that supported his career and recently created The Joe W. Fisher Endowment Fund through an estate gift. Through the fund, Joe will help future generations of UC students at the College of Arts and Sciences and carry forward his legacy of teaching and research, even after he is gone.
To learn more about how you can leave your legacy at UC through planned giving, please visit uc.giftlegacy.com.
Questions? / Contact our Gift Planning Team:
Have Questions? Click here to schedule a meeting today!

Danny Ferrell » Executive Director, Gift Planning
513-556-6001

Tammy Wernke » Senior Director, Gift Planning
513-556-6293

Jennifer Morand » Assistant Director, Gift Planning
513-556-6064