Former UC Football Captain Makes Gift Through His Will
Former UC Football Captain Supports Football Program
Linwood Marshall credits UC with successful life
Growing up in Cincinnati's South Cumminsville neighborhood, Linwood Marshall, ASC '82, remembers seeing the lights of the University of Cincinnati's Nippert Stadium from his home.
Playing at Nippert was something he always hoped for and he was thrilled when his Pee Wee team played a championship game there in 1969. He returned "home," as he likes to say, in the 1980s as a linebacker on the UC Football team; he was captain 1981 to 1983.
Marshall says he wasn't the most gifted player on his team, but that he was a natural leader and communicator-skills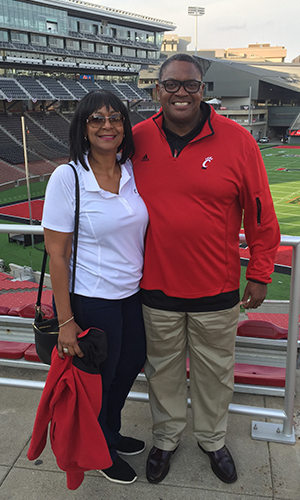 he honed at UC and that have served him well.
"Playing a collegiate sport was a privilege that I earned through hard work and dedication," Marshall says. "I've always believed it helped me develop leadership skills that have lasted a lifetime. I've carried those lessons into my 20-plus years with United Parcel Service and 30-plus years of marriage."
Marshall wants future Bearcats to have the same advantages he had, advantages he credits to his UC experiences. He and his late wife, Kimberly, BBA '83, decided that leaving a planned gift to the UC Football Development Fund was the best way to support the university and program that gave them so much.
"We decided to support the football program because we believe in the players and their futures after they hang up their cleats," Marshall shares. "They have success ahead of them thanks to their educations."
Kimberly, who sadly passed way in July 2018, was a second-generation Bearcat. Avid UC fans and Cincinnati natives who relocated to Florida, both Linwood and Kimberly were thrilled that their daughter Theo, A&S '13, graduated from UC.
"I love that she is a third-generation Bearcat," Marshall says. "She now lives and works in Chicago and has a dog named Bear."
Marshall is still the glue among his former UC teammates. They keep in touch via text and emails-often daily-and he organizes their visits.
"Meeting up with them at games is more like a family reunion than a sporting event," he says. "We have so many shared memories. You meet their families, relive old times and talk about our college days."
Marshall hopes other players will consider giving back as well.
"It's one of those things you do with your heart," he says.
Questions? / Contact our Gift Planning Team:
Have Questions? Click here to schedule a meeting today!

Danny Ferrell » Executive Director, Gift Planning
513-556-6001

Tammy Wernke » Senior Director, Gift Planning
513-556-6293

Jennifer Morand » Assistant Director, Gift Planning
513-556-6064