Coach Larry J. Mullins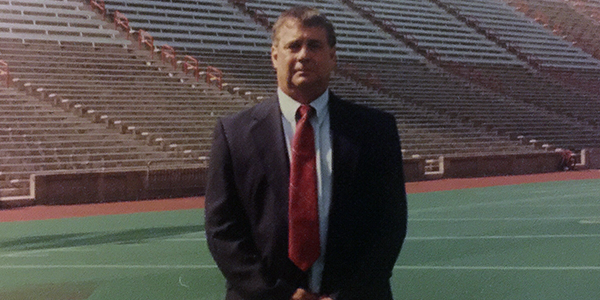 As a resident of Charleston, West Virginia, high school "Coach" Larry J. Mullins is on the receiving end of some ribbing about the large amount of Bearcat paraphernalia on his car and in his home.
The University of Cincinnati graduate, BS '63 and MA '65, and former football player does not care a bit. Mullins played offensive guard for UC in 1960 and was a graduate assistant coach in 1964.
"I'm pretty well what you would call a Bearcat and proud of it," Coach Mullins says. "I feel like I had the best possible mentors that there were to have. Four of my football coaches went on to be head coaches in the NFL. They always had time to sit down and talk to you. I got a quality education from people who cared."
His gratitude for what he describes as "the friendliest university in the nation" prompted him to leave UC a gift in his will. Coach Mullins believes if you received a quality education, the least you can do is help provide others the same opportunity.
"I look at people still paying off student loans today and I went for free on an athletic scholarship," he says. "This is my way of paying it back."
His education and coaches prepared him for 47 years of teaching and coaching, mostly in West Virginia's inner city schools.
While Coach Mullins led 12 undefeated high school football teams, he always made certain his players understood the importance of education.
"Anytime a kid would walk in my office, I had a policy: They weren't allowed to look at any football photos and awards, the first thing they had to look at was my diplomas," he shares. "If it wasn't for my education, there wouldn't have been the other stuff."
A gift in your will is one of the easiest gifts to make. With the help of an advisor, you can include language in your will or trust specifying a gift be made to family, friends or the University of Cincinnati Foundation as part of your estate plan.
Questions? / Contact our Gift Planning Team:
Have Questions? Click here to schedule a meeting today!

Danny Ferrell » Executive Director, Gift Planning
513-556-6001

Tammy Wernke » Senior Director, Gift Planning
513-556-6293

Jennifer Morand » Assistant Director, Gift Planning
513-556-6064